Stainless steel actuator with a protection of IP69K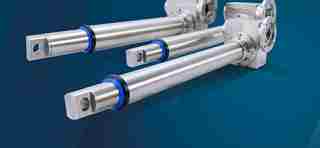 At BJ-Gear A/S, we are expanding our range of products with a completely new stainless steel actuator with a IP69K classification. The sealing is made of FDA-approved material and with the hygienic and easy-to-clean design as well as a protection of IP69K, the stainless steel actuator is particularly suitable for the food industry. 
As standard, our actuators are manufactured in stainless steel AISI 304/EN 4301, which with its high corrosion resistance is the most common type of stainless steel. Furthermore, the stainless steel actuator has a protection of IP69K, which ensures that the product can be cleaned with water under pressure from all directions.
A BJ actuator is extremely sturdy in terms of overload and operating environment. The design is simple and its modular design allows great flexibility regarding the choice of mounting options, flanges and surface treatments. The modular design is also ideal if any customisations are needed where the actuator must be optimised for specific needs. Therefore, BJ-Gear A/S is able to manufacture actuators adapted to your requirements at an attractive price.
An electric actuator is used primarily where an intermittent axial movement and positioning is needed. It is a good alternative to hydraulic and pneumatic cylinders due to the simple connection to electrical operational systems and the hygiene benefits. Furthermore, you will achieve a quite steady speed all over the load range compared to hydraulics and pneumatics solutions.
Our actuators are made in various versions and are currently installed in countless solutions within healthcare, food processing and packaging and many other Industries.




Brochure: Stainless steel actuator
For more information call us on +45 87 40 80 80
or send an e-mail at bj@bj-gear.com