BJ-Gear was established in 1964 by Børge Jensen. It started as a ....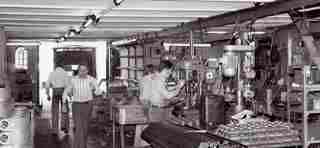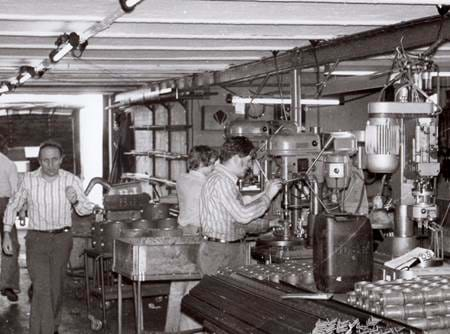 Establishing BJ-Gear
1964
Børge Jensen established Tilst Maskinfabrik, which very quickly became B.J. Fabriken, in a cowshed. The company started with 5 employees focusing on producing gear motors. The cowshed was changed into a workshop with help from the local soccer club, where Børge Jensen coached. Børge Jensen established the company at the request of his former employer and apprenticeship, Trabjerg Tandhjulsfabrik, which had just started producing gear motors, and needed a stable supplier for them to focus on gear wheels. The arrangement was for Trabjerg Tandhjulsfabrik to supply gear wheels to B.J. Fabriken, which then mainly produced gearboxes for the gear company Lind Jakobsen & Co.
Development of the first BJ-worm gearbox
1964 - 1976
The acquaintance with one (or more) gardeners gave birth to the idea of an automatic clay pot washing machine. Here, the Series 42 worm gearbox became the driving force for the brush that washed the clay pot. Solutions were also developed for opening and closing windows in the greenhouses - all based on the Series 42 worm gearbox.
The production increased - both BJ-Gear's own production but also the production for Lind Jacobsen & Co. The space in the cowshed was limited, and a new plant in the industrial district was planned. The company moved from the cowshed to new facilities. In this process the collaboration with Lind Jakobsen & Co. ceased and new sales channels was to be found.
BJ-Gear starts exporting
1976 - 1982
Børge Jensen began to seek out potential customers and slowly grew a new customer portfolio. Besides new Danish customers, agreements were made with customers in Sweden, Norway, and Germany as well as two Danish healthcare customers who helped pave the way for deliveries to the healthcare industry in the Netherlands and later the USA, among others.
Production was now accelerating, and optimisations were needed. B.J. Fabriken invested in their first CNC lathe machine and a few years later expanded with yet another one. In this period a collaboration with an external partner to develop a differential gearbox also called for further competencies and the first engineer was employed.
B.J. Fabriken became BJ-Gear A/S
1986
In 1986 B.J. Fabriken became a limited company and was renamed BJ-Gear A/S.
Expansion of market segments and product range
1986 - 1990
If a customer could not use an existing gearbox, Børge Jensen was quick to launch a new series. Over time, the worm gearboxes grew from series 42 to series 52, 61, 79 and 99. Series 61 was developed for barn feeding plants. A series 33 was developed for interior sliding doors in the IC3 trains, a differential gearbox was developed for a sorting facility at a Swedish airport, and a special gearbox was developed for wheelchairs and disability scooters.
BJ-Gear automates further
1990 - 2000
The first CNC machining centre was purchased and installed and later the production was expanded with two more CNC lathe machines and one more CNC machining centre. The second engineer was also employed in this period.
Børge Jensen sold his life's work in 2002, and Flemming Graversgaard took over the company. Børge Jensen had previously been offered a takeover from a German company, but for Børge Jensen it was important that BJ-Gear remained in Danish hands.
The next 15 years were characterised by organic growth and business acquisitions. The first acquisition Flemming Graversgaard made was the Trabjerg Tandhjulsfabrik. 70% of the production at Trabjerg Tandhjulsfabrik was for BJ-Gear A/S, so it was a natural consequence. In 2006 BJ-Gear A/S acquired Lind Jakobsen & Co. which meant that BJ-Gear could expand the product range with some new types of gearboxes and accessories.
At the same time BJ-Gear were met with more strict requirements to hygiene, and consequently developed and launched their stainless-steel series of worm gearboxes.
BJ-Gear moves (again)
2007 - 2008
The number of employees as well as the machinery park grew, so Flemming Graversgaard built a new and modern, 10.000 m2 headquarters in Stilling near Skanderborg. By January 2008, the facilities were ready, and all personnel and machine park were quickly moved.
The acquisitions continued. In 2013 BJ-Gear acquired NG-Teknik, which made it possible to offer waterproof bearing units for e.g. the food industry. In 2018 Ny Stenderup Maskinfabrik was acquired which heavily increased the company's skills in machining and subcontracting. 
Børge Jensen passed away – 88 years old.
Expansion of machining options and automation
2019-2020
Besides adding a company specialised in machining, BJ-Gear heavily invested in modern CNC machining centres and robots.
BJ-Gear A/S opens company in Germany
2023
BJ-Gear A/S is expanding its business into Germany and has therefore established a GmbH and recruited Brian Frimark as managing director of BJ-Gear GmbH.
The company's head office is located in Birkenau.