Electromagnetic clutches and brakes are used to move or decelerate moving masses as quickly as possible.
Electromagnetic clutches and brakes are used to move or decelerate moving masses as quickly as possible.
Electromagnetic clutches and brakes are used to move or decelerate moving masses as quickly as possible.
Brakes and clutches to move or decelerate moving masses
The spring loaded brakes are often used as safety brakes. Permanent magnet brakes are active by way of a permanent magnetic field and can thus connect the axles in a tension free mode.
The spring loaded brake is supplied ready to be mounted. The air gaps for FLC, FDW are fixed without adjustment, and the air gap of FDB, FDD and FDR brakes is preset before leaving the factory. If adjustment later on is needed it is possible without removing the brake from the motor.
The range of spring loaded brakes
FDB Series: Classic solid fail-safe brake in several variations for universal use.
FLC Series: Easy to assemble, low cost, for applications with limited friction work.
FDD Series: Low noise, double brakes for applications with high safety requirements.
FDR Series: Double friction rotor brake for high torque requirements on limited mounting space.
Working principle
The  spring loaded brakes are electromagnetically actuated single disk brakes with two friction surfaces.
The braking power is applied by means of pressure springs.
The braking torque is generated in the currentless condition.
Ventilation (releasing) of the brake is effected electromagnetically.
In the absence of current, the compression springs (5), present in the magnet body (1) are pushing against the axially movable armature plate (2) which traps the brake rotor (3) against the motor housing surface (8). The brake torque is transferred to the shaft via the rotor and splined hub (4). By applying direct current voltage to the coil, a magnetic field is produced in the magnet body (1). This magnetic field attracts the armature plate (2) across air gap "a" and allows the rotor to rotate and neutralize the brake torque.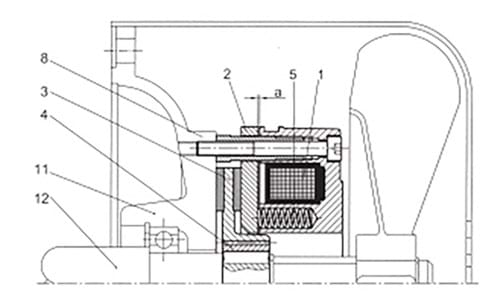 Product information
Standard voltages are: 24 VDC, 48 VDC, 103 VDC, 180 VDC and 205 VDC (Special voltages are available on request)
Standard cable sizes are: size 05 and 06 – AWG 24 Size 08 to 30 – AWG 19
The air gap "a" is preset
The spring loaded brakes, type FDW/FLC has a fixed air gap "a" which is given through the dimensions of the parts
Fixed bearing is not required on the side of the brake
Asbestos-free friction linings: Due to the special processing of the friction surface, the rated braking torques are achieved after a short running-in process
Standard: Protective rating IP54 (mounted under the fan cowl of electric-motors).
Dust and waterproof electromagnetic brake

Through the  body design this is a fully capsulated brake sealed from outside influence. The brake type available in 10 sizes counts as solid industrial brake for outdoor applications or use in aggressive environment. Very easy assembling through fixed air gap.
Options
sealed manual hand release
taped bores for encoder/tacho assembly
rest period heating
temperature sensor
inductive sensor / Sensor for monitoring brake or wear limit
Accessories

For triggering halfwave and bridge rectifiers, fast acting rectifiers, and current detection relays are available.
Special solutions

In case of special mechanical and electrical requirements with respect to the spring loaded brakes, please contact our domestic and international experts.
Stainless steel brake module
The stainless steel brake modules from BJ-Gear meets the high demands and standards required by e.g. the food industry for products to be used directly in a process line. The have a hygienic design with a smooth surface and are easy and simple to incorporate. The brakes are available in three sizes with torque from 5-20 Nm. They fit IEC motor sizes 63, 71, 80 and 90 (B14). Other sizes can be made on request. 
The brakes are designed to be mounted between a flanged motor and a gearbox, where the output shaft is not to be subjected to additional axial or radial loads. The protection is IP68/69 when mounted between the gearbox and the motor. 
| | | | | |
| --- | --- | --- | --- | --- |
| Motor frame size | Brake size | MbN* (Nm) | P 20 °C (Watt) | Cable length, standard (M) |
| 63 | 08 | 5 | 22 | 1 |
| 71 | 08 | 5 | 22 | 1 |
| 80 | 10 | 10 | 28 | 1 |
| 90 | 13 | 20 | 24 | 1 |
An electrically generated magnetic force ensures connection between armature and rotor in an electromagnetic coupling and thus making torque available. If the voltage disappears, the magnetic field is removed and the pre-stressed spring will separate again the armature and rotor. 
Our range of magnetic clutches covers a wide variety of requirements. All clutches and brakes can be used in any installation position and require hardly any maintenance. All variants are powerful and operate with all-round safety and reliability. They feature short operating times, low inertia torques and ventilation that is free of residual torque. 
Characteristics:
Clutch and braking torque range from 7.5Nm to 480Nm
7 sizes
DC voltage: 24V
Insulation class B (130°C)
Friction-locking transmission of the torque or braking torque in dry running
Torque transmission without torsional/angular backlash
High switching frequencies
Versatile usage: with different constructions of the stator and armature